---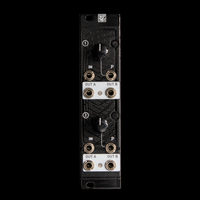 Mutable Instruments Branches clone, identical to the original, with the addition of a premium black aluminum Magpie panel.
Branches is a dual Bernoulli gate generator. Utility modules like this aren't the sexiest, but gate/trigger modules are a necessity for any Eurorack system and this is our favorite gate/trigger module.
This module is professionally built and extensively tested by an electronics engineer with over ten years of experience. The panel on this module is manufactured by Magpie Modular, makers of some of the highest quality panels in Eurorack. It is aluminum with a beautiful black textured finish. Branches comes with a one-year warranty, and ships promptly with a Eurorack power cable and some bonus treats included.